Care Of Kancharapalem Review : Realistic Love Stories
Starring : Subba Rao, Radha Bessy, Kesava Karri, Nithya Sri Goru, Karthik Ratnam, Vijaya Praveena, Mohan Bhagat, Praneetha Patnaik
Director : Maha Venkatesh
Presented by : Rana Daggubati
Producer : Vijaya Praveena Paruchuri
Music Director : Sweekar Agasthi
Cinematographer : Varun Chaphekar, Aditya Javvadi
Editor : Ravi Teja Girijala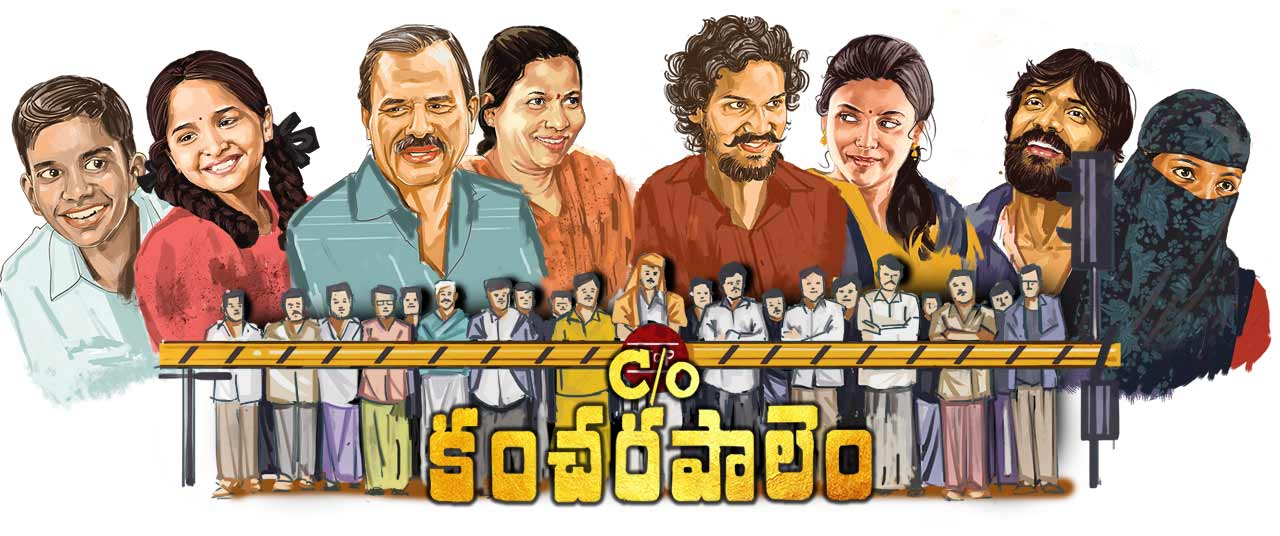 Story :
The story is About four people- Raju, Sundaram, Joseph, Gaddem and the love of their lives Radha, Sunitha, Bhargavi, Saleema respectively.
Raju is a simpleton government employee (attender) is 49 and unmarried. Just like how Salman Khan gets 'When will you get married?' question posed by the whole nation, Raju gets quizzed by his village. This forthright and diligent man befriends a newly transferred officer, Radha from Orrisa. She is a widow with a 20-year old daughter, a diabetic patient and a principled person, who doesn't believe in classism in the office premises. Joseph, a young and wild soul working for a local goon called Ammoru encounters a Brahmin girl, Bhargavi, a fierce and fiery girl, who is unabashed in stopping the goons from beating up a man on the road, uninhibited in intrepidly arguing with Ammoru about her decisions and challenging the orthodox conditioning around her. Sundaram, son of a hardworking and skilled sculptor with a stammering issue is infatuated to his classmate Sunitha, a girl from a household that doesn't let her enjoy the song she loves. Gaddem, a liquor store worker is madly in love with Saleema, a girl who is always masked with a scarf and is a regular at his shop.
Actors & Performances:
The actors who played the main leads in the Care of Kancharapalem movie are not the real actors. Director Venkatesh Maha took this gamble of picking the raw people from Kancharapalem to play the characters in the story.
This rawness among them turned out as the biggest asset to the film as they showcased the naturalness to the lively roles with their natural acting.
Plus Points:
Story Backdrop
Dialogues
Realistic roles & performance
BGM
Minus Point:
Analysis:
The soul of the story is about how these characters fall in and out of love, find their calling, and defy the society's downtrodden, irrational set of rules and how they un box their destiny forms the crux of the story.
Breaking stereotypes with a hammer, bringing an understanding about the fallacies co-existing with us, the story and the real people (not actors) resonate strongly with us at multiple levels. If you thought, the poster and trailer was quite arresting, then wait till the movie takes you on an emotional roller coaster ride at various gradations.
Technical Excellence:
This technically sound film might not spoon feed you what the usual movies do but it offers a lot on your plate, satiates your hunger for content-driven, realistic cinema. Venkatesh Maha strived on giving the audience a journey of experience and he passed with flying colours and you will find yourself involuntarily clapping to creative ingenuity of the maker.
Care Of Kancharapalem Rating : 4/5
Bottom line: There is love for everyone and in everyone, respective of age, class and religion. A body with flesh and blood and active cells will have the tendency to fall in love. No barrier is a barrier in love.